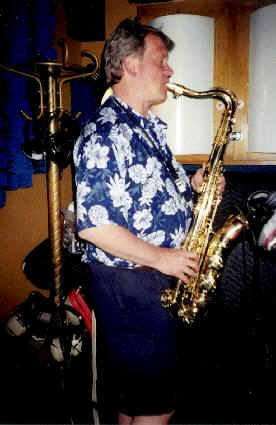 James Gentry, Tenor Saxaphone
If your considering an ensemble (band) hiring. We the "James Gentry Bold Classic Jazz ensemble" (please visit to listen www.jgbcs.com) is available to perform for you some of the most OUTSTANDING melodies by some of the GREAT American composers of modern Music such as Kern-Gershwin-Rodgers-Porter-Berlin-Ellington just to name a few.
EXCELLENT choice for eloquent parties and events. We will perform for you some of your most favorite and romantic recognizable Melodies such as On a Slow Boat to China -Can't help loving dat man-Love is here to stay-If I could write a book-Love for Sale-Don't get around much anymore and many more performed buy a Classic jazz ensemble. However you can chose the ensemble size you want to hire ( Trio-Quartet etc.,).
Relax and listen and sip the wine and enjoy your day with these easy listening and beautifully written romantic melodies never taxing to you as you enjoy the ambiance this particular Music provides either for your Party/Event. To schedule please download your contract to reserve your Date and Time for your event. If you have any questions and or please feel free to either write or give me a call
Sincerely, James